Glen Spurgeon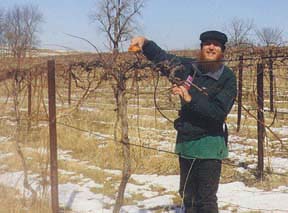 Glen was raised on a dairy farm in a prominent wine area in Missouri, near St. James. Neither he, nor his parents, Harold & Dorothy Spurgeon, had any connections to any of the local wineries or vineyards. After graduating from high school, Glen developed an interest in becoming a winemaker. He then headed off to college and took chemistry classes, for future use in wine analysis, along with agricultural mechanics classes. With a Masters Degree in Ag Mechanization from the University of Missouri–Columbia, Glen moved to Wisconsin to take a teaching job at Fox Valley Technical Institute in Appleton. After teaching there for nearly a year, Glen ventured to Oshkosh with his friend for a grand St. Patrick's Day celebration. At the time, Johnny Carson said that Oshkosh was THE place to be! It turned out to be THE place that Glen met his future wife, Mary. They married in 1976 and soon after that began their plans for the vineyards and winery.
As the winery and vineyards developed over the years, much has changed. However, Glen's dedication to his duties as winemaker and vineyard manager has not changed. In addition to those duties, Glen is the resident mechanic, electrician and plumber. He can occasionally be caught running the tasting room. In his spare time he cooks most meals, enjoys watching Formula 1 racing and is Mary's concert groupie. Whenever he has the chance, Glen spoils his grandchildren.
Mary Spurgeon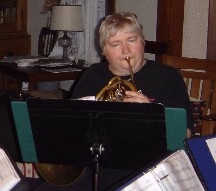 Mary was raised on a dairy, beef and hog farm. She attended the University of Wisconsin–Platteville for one year, majoring in music. For her second year, Mary transferred to UW-Oshkosh. It was while attending UW-O that Mary met her future husband, Glen. Mary was proud to receive her Bachelor's Degree in Music Merchandising as the first person to graduate with that degree from UW-O. Mary's father always said that she went to college to get her MRS degree. He must have been correct as Mary and Glen were married in 1976, one month before graduation.
Mary's duties at the winery do not involve winemaking since she has a full-time job outside of the winery. Rather, Mary is the Minister of Propaganda. She writes the back labels for all of the wines, she puts together the brochures, advertising and press releases, and she secures label approval from the feds for any new wines. Mary also gives winery tours during special events. While Glen 'makes' the wine, Mary 'cooks' the books. She files, mostly on-line, a minimum of 11 reports each month. In her spare time, Mary enjoys work-avoidance, reading, watching NCIS (she relates to Gibbs as they have the same hair color) and playing French horn or trumpet with several local community bands. She also does all of the outdoor grilling and helps Glen spoil the grandchildren. When she can't avoid work, she does the laundry and runs the dishwasher.