Curbside Pickup Available
---
Spurgeon Winery, owned by Glen and Mary Spurgeon, is conveniently located in the scenic southwest Wisconsin hills approximately 5 miles west of Highland.
We offer free sampling of our line of wines. We have many varieties of fruit, grape and mead (made from honey) wines in dry, semi-sweet, and sweet wines. You are also invited relax on our covered deck with a glass of wine or take in one of our many events held throughout the year.
2023 Events and Dates will be published soon.
The Great Wine & Chocolate Tasting – May 28 & 29*
Pairing luscious chocolates with our Fine Wine
Bring on the Bacon & Cheese Days – June 25 & 26*
Pairing Prime Bacon treats and Artisan Cheese with our Fine Wine
Way Cool Wine Days – July 23 & 24*
Making Mixers & Slushies with our Fine Wine and served with food
Wurst-Wine Weekend EVER – August 27 & 28*
Pairing Bratwurst and German Food with our Fine Wine
Harvest Festival – September 24 & 25 (Spurgeon Winery Only)
Live Music*Bring Your Own Lawn Chairs*Food Available*Wine Tasting
Halloween Party October 22 & 23 (Spurgeon Winery Only)
Pairing Halloween Candy with our Fine Wines, Ghoulish Recipes, and more!!
Christmas Open House – November 19 & 20 (Spurgeon Winery Only)
Super Sale on Select Wines*Free Wine Tasting*Free Product Tasting
*WINE TRAIL EVENTS with Sinnipee Winery, Wild Hills Winery and Whispering Bluffs Winery
Call for details 608 929-7692!
We are within an hour's drive of the Wisconsin cities of Madison, La Crosse, Tomah, Platteville, Dodgeville, Mauston, Black River Falls, Richland Center, Muscoda, Fennimore, Middleton, Verona, Sauk City, Prairie du Sac, Baraboo, Portage, and Wisconsin Dells. We are also only an hour away from Dubuque, Iowa. If visiting our facility is not possible due to your location, you can shop on line and we will ship your wine to you. Click here to verify if you are eligible to have your wine shipped to your state.
Sign Up for our Email list for product updates and contests.


Featured Products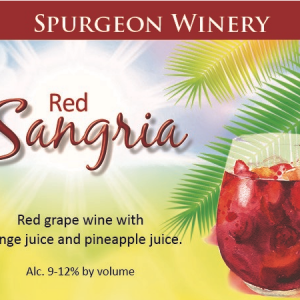 Red Sangria
Summer breezes and a luscious Red Sangria can't be beat! We start with a bright and grapey sweet red wine. Next we add orange juice and pineapple juice. Then we stir. Serve straight up and chilled! Over ice! Spritz with … Read More
not rated
$

16.95
Add to cart